Warwick Bridge Corn Mill - press release August 2020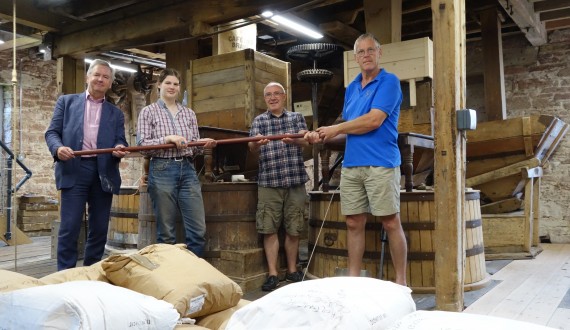 Last week saw the official handover of the mill to the community benefit society that is tasked with running the mill. Pictured above are Graham Bell, Karen Mason, Phil Healy and Graham Brooks. The mill is now producing flour which is available at a range of local outlets, and will soon have the bakery up and running with a diverse range of courses and opportunities for volunteers. More information can be found on the cornmill website
The full press release can be read below
Community Share Offer launched at public meeting
Tuesday 12th November saw the launch of the community share issue for Warwick Bridge Corn Mill Ltd at a public meeting in Downagate Community Centre. Attendees heard from the Chairman of the community benefit society about the unique opportunity to be involved in sustaining the future of the grade ll* listed building, ensuring it continues to be at the heart of the community. The evening started with a presentation to a student from the local primary school, the winner of a competition to design a logo for the new community business, and concluded with tasting of samples of bread and other baked goods made by the social enterprise bakery who will soon be working from the mill. Full details of the share offer, the business plan and the business model are available here
The share offer, open from 12th November until 10th February 2020 aims to raise £120,000 to fit out the bakery and provide working capital for its operation.
You can download a copy of the share offer below and send it by post to WBCM Share Offer, Fairhurst, Aglionby, Carlisle, Cumbria CA4 8AQ or email it to info@warwickbridgecornmill.co.uk
Cleveland Ironstone Mining Museum Seeks Project Co-ordinator
Cleveland Ironstone Mining Museum and Redcar and Cleveland Borough Council are looking for a Project Co-ordinator with construction experience to help the deliver their Room to Grow Project For application information please contact Graham Banwell, Director of Operations The Project is funded by the National Lottery Heritage Fund and the Coastal Communities Fund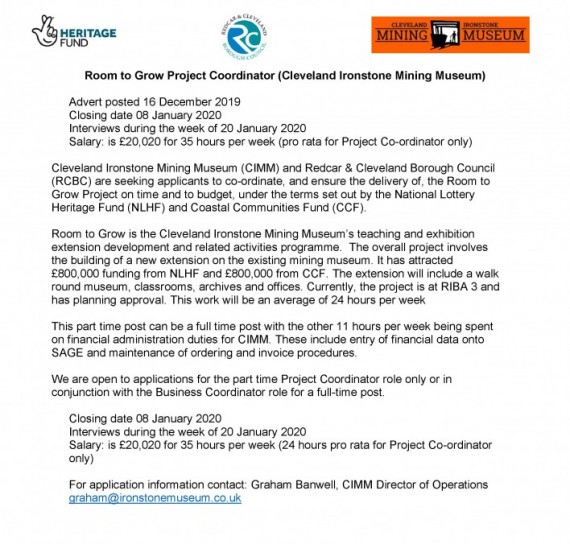 Heritage Open Days at Warwick Bridge Corn Mill
A very successful event was held at the Corn Mill on Saturday 14th September, with over 120 people visiting the mill to see first hand what's been going on behind the scaffolding and the portacabins. With hands on activities, tours of the mill, historical exhibitions and artefacts as well as the opportunity to see the waterwheel turning and the millstones grinding grain it was a very enjoyable day. Visitors were also able to talk to members of the steering group about the upcoming community share issue and help develop our ideas for activities at the mill. With tours fully booked for Tuesday and Wednesday and a school visit on Thursday it's shaping up to be another busy week.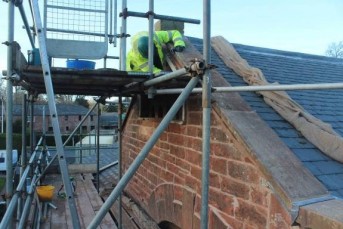 Warwick Bridge Corn Mill - latest update now available
Our latest quarterly round up of progress on and off site is now available to read below. More detailed information is available on the project page under Progress Updates
Skills Training at St Andrews Dalton le Dale - June 2019
Join Classic Masonry, conservation architect David Beaumont and members of the church at the Grade II* listed church of St Andrew at Dalton le Dale, to learn about the recent HLF funded and Historic England technically assisted repairs to the stonework and its interior decoration on Wednesday 26th June at the Church of Saint Andrew Dalton-Le-Dale, Dalton-le-Dale, SR7 8QX
In this session the team will describe the defects and the investigations that were carried out to understand the repair proposals. They will also talk about the practical difficulties of stone conservation to the stonework, mortar mix and particularly the Norman Doorway conservation works. Plus the findings of paint research and the practicalities of redecoration.
The morning session will be geared towards construction professionals and the technical aspects of the conservation works.
The afternoon has been developed for community involvement where we will have a brief history of the church and the village, a building tour, description of the work, seeing the masons at work and the techniques being employed. We will end the session with a short discussion on the management and maintenance of the church.
There will be a demonstration of stone carving and lime pointing outside and the opportunity to have a go yourself, so walking shoes and suitable clothing is recommended. The contractor will provide hi vis, goggles, hats and gloves.
Skills Training at Warwick Bridge Corn Mill
Join us on Wednesday 22nd May or Tuesday 11th June to learn some of the skills used in restoring our historic corn mill. Our friendly contractors are offering training in stonemasonry and working with lime for up to 8 people per session. Full details in the poster below. Places are free, but limited, so contact us asap to book your place.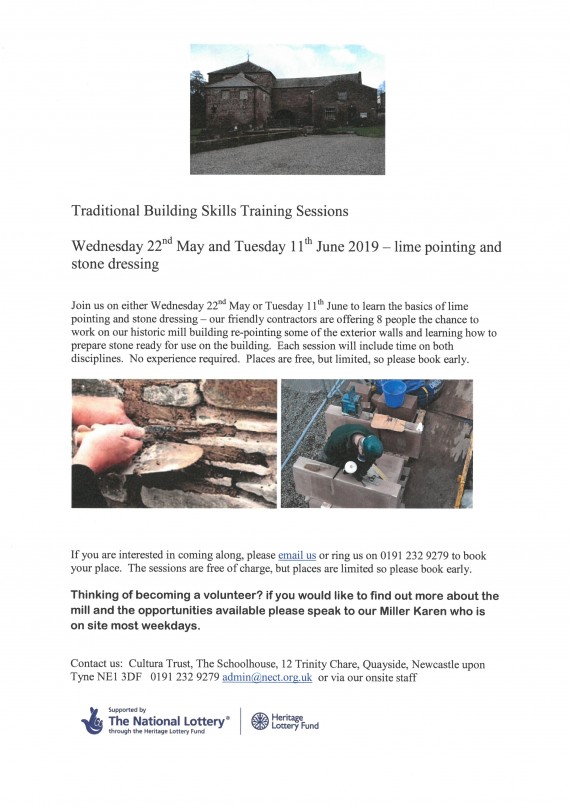 Bishopwearmouth Townscape Heritage, Sunderland
an exciting opportunity to be part of this 5 year project in the Bishopwearmouth area of Sunderland. The Village Atlas project is seeking to find out more about who lived in the area and what went on. An initial meeting is being held on 15th April and you can find out more in the poster below.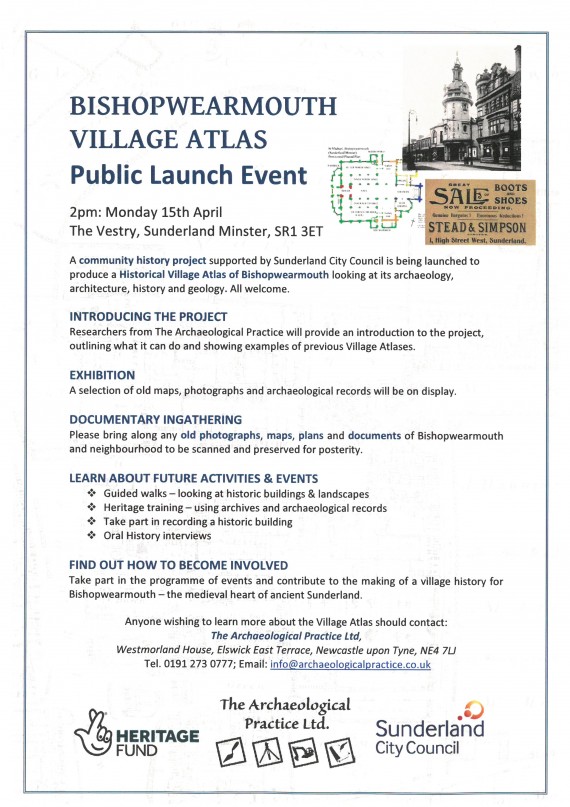 Warwick Bridge Public Meeting Wednesday 3rd April, 7pm Downagate Community Centre
Over the last few years a lot of work has been going on at Warwick Bridge Corn Mill behind the scaffolding - bringing it back from the brink, with expert contractors in a range of fields coming together to restore the fabric of the building, the milling machinery and the waterwheel, along with help from a dedicated band of volunteers and supporters both local and from further afield. Although the works aren't quite finished yet, we're looking at the next stage in the process - bringing the mill back into operation and bringing the story of the mill to a wider audience. This is where the community can play a greater role. We know that the mill is important to many people - it's significance as an example of its industrial past is recognized nationally by its listed status; but it has a local story to tell too - and we've seen that in the stories told to us at our open days so far - memories of days delivering grain, working in the mill, the noise of the water rushing through the big wheel, and the millstones turning - and it has a part to play in the future life of the village too - helping to increase the vitality of the village, offering employment and volunteering opportunities, being able to experience the sights and sounds of a working mill, learn about the history of milling and the mechanics behind it, take part in bread-making workshops as well as a host of other activities for schools, families and other interested groups.
On the evening of 3rd April we will be holding a public meeting in the Downagate Community
Centre, Warwick Bridge to explore taking the day to day operation of the mill into community ownership. We'll have a panel on hand with expertise and experience in helping communities run much loved local assets. Come along and find out what's involved and how this has been done successfully in other communities.
Warwick Bridge Training event 8th and 9th April 2019
We are holding a training session on historic ironwork conservation which is being led by Geoff Wallis, a heritage expert in this field. There will be both theory and practical sessions, with a chance to help restore some of the historic kiln tiles that we have at the mill. If you are interested in coming along, please email us to find out more.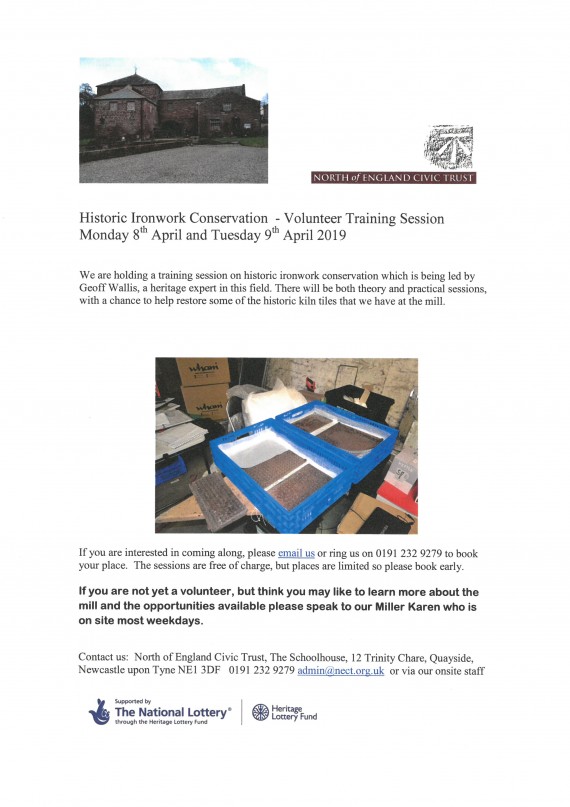 Collections Care training event
The final workshop in our Resilient Heritage programme was held on Tuesday 26th February at Warwick on Eden Memorial Hall. Participants were invited from all our partners and also from volunteers at our mill and other small independent museums in the region.
Training on documentation and collection care was provided by Lancashire Museums Service and delivered by Jenny Truran and Jo Hayward. Matthew Bell from Edwin Thompson talked about historic properties.
12 Trainees attended the session, with representation from Solway Aircraft Museum, Warwick Bridge & District Local History Group, Nenthead Mines, Cumbria Industrial History Society, Warwick Bridge Corn Mill volunteers and NECT staff members.
Tyne and Wear Heritage Forum Saturday March 23rd 2019
Tickets are now on sale for the Tyne and Wear Heritage Forum Annual Conference which is taking place in Wallsend on Saturday March 23rd 2019. The theme for this year is Heritage Trails. With talks and interactive workshops, keynote speakers John Grundy and Michael Chaplin, the day will be both informative and entertaining.
Tickets, priced at only £20 including lunch and refreshments, are available through eventbrite now
Update on Gayle Mill, Hawes, North Yorkshire
Gayle Mill is currently closed to visitors in order to carry out some health and safety improvements and undertake additional repair works that were not part of the original restoration. We hope to re-open during the 2019 season and news will be posted here. Please get in touch if you would like to be part of our volunteer group. Any additional enquiries should be directed through the Trust's main office.