Opportunity to work for Trinity House, Newcastle
Would you be interested in working at the headquarters of a unique maritime organisation? Trinity House Newcastle upon Tyne are looking for a part time administrator to join them from late May onwards. for more information, please ring NECT's office.
Exciting Opportunity to work for Durham Cathedral
Durham Cathedral is looking to appoint a new Head of Property who will have responsibility for the Fabric of the Cathedral and its estate in Durham City.
They are looking to appoint an exceptional individual with significant experience in the building and construction industry. You should also have experience of the heritage sector and must be able to demonstrate initiative and vision to lead change in the Property Department. The management of the maintenance and restoration of the Cathedral and Precincts will represent a core element of this position. You will need to demonstrate strong financial management skills and equally strong personnel management skills.
If you have experience in leading and managing building and construction trades and demonstrable experience of traditional construction and heritage crafts , please follow the link below to find out more.
For an application pack please click here
Closing date for receipt of completed application form: 12 noon Thursday 28th April
First Schools visit to Camp Farm Maryport
Wednesday 9th March saw the first school visits to Camp Farm with children from the Maryport Joint Schools Council meeting in the Bothy at the farm. Ten teachers and twenty pupils gathered together to learn a little about the farm and the site, and to start thinking how they would like to be involved in its future, and what ideas they had for the buildings.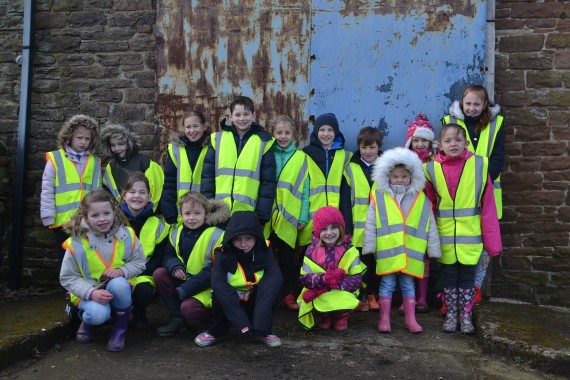 Creative and Cultural Skills Awards 2016
We are delighted to have been shortlisted for an award at this year's Creative and Cultural Skills Awards for the Engineering Heritage Skills Initiative. Congratulations to all the team members and thanks for the support from Tyne and Wear Museums.
The awards will shine a light on those who are making a difference by passing on their skills by leading training and talent development schemes, mentoring or coaching formally or informally, or by being an inspirational manager or sector leader. It is also an opportunity to award individuals who have shown excellence in skills development in the creative industries.
The Awards presentation took place on 2nd March and although we didn't win an award the evening was a great success showcasing the strength of creative and cultural skills training that is happening throughout Great Britain.
For a round up of award winners see the awards webpage here
Trinity House, Newcastle upon Tyne hosts Award Ceremony for Heritage Skills Initiative
Wednesday afternoon, 3rd February, saw the Corporation of Trinity House, Newcastle upon Tyne kindly hosting the local award ceremony and presentation of the EU Prize for Cultural Heritage/Europa Nostra Award 2015 to NECT's Heritage Skills Initiative.
We were delighted that the Lord Lieutenant of Tyne and Wear was able to join us for the event, along with representatives from the North East Historic Environment Forum, Funders, participants and demonstrators who had been involved throughout the project.
Local History Event Saturday 30th January - Port Carlisle
A very interesting day was had by all those who attended the event held in the chapel at Port Carlisle. Many people were inspired to learn more about their local area and become involved with the project.
First School Visit to Warwick Bridge Corn Mill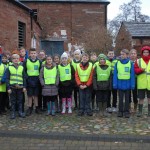 12th January 2016.
This week we welcomed 5 classes of children from Warwick Bridge Primary School to look around the Corn Mill for the very first time. The children were fascinated by the milling machinery which is still in situ at the mill and were keen to learn more about how the site used to operate. The whole school has now visited the site and pupils will be working on projects relating to the mill and milling, with an end of term presentation event in February.
Coastal Revival Fund Success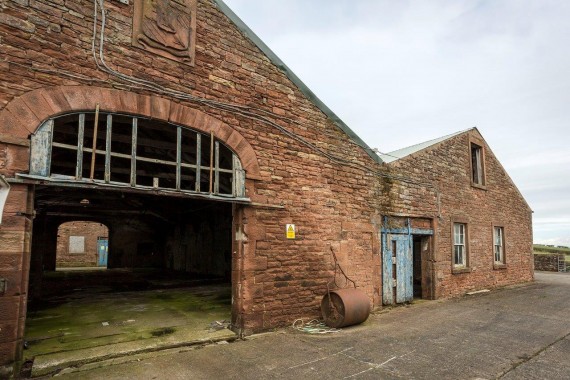 We are delighted to announce that we are one of the 77 successful projects to be funded through the government's Coastal Revival Fund.
The Coastal Revival Fund grant will help make the derelict farmstead safe to enable NECT to involve the public from the very start of the journey that will lead to the restoration of the model farm and making the Roman site one of West Cumbria's landmark assets.
Over the coming months NECT will use the grant to undertake urgent repairs to the most
vulnerable historic buildings and create a 'base camp' in the former bothy so that groups
can experience the site while it is still in its raw state. Activities will involve learning about
how to survey historic buildings, including both history and habitat, to generating ideas
about the site's future. Cumbria has a number of important model farms from when
agriculture was being modernised in the eighteenth and early nineteenth centuries. Camp
Farm was created by the Senhouse family but while it was a working farm it was not open
to the public – until now. Learning firsthand from a real life model farm about how
agriculture shaped life and fed the folk of Maryport will be a valuable new experience. The
Roman world and then the Senhouse family are chapters in the story of the link between
fort and port, farm and family – a story to tell the visitor to Maryport.
The full list of the successful bids is available on the DCLG press release, which you can see on this link here
Warwick Bridge Corn Mill project receives HLF support
North of England Civic Trust is excited to announce that it has been awarded a grant of £1,379,300 from the Heritage Lottery Fund towards its ambitious £2m project for the historic corn mill in Warwick Bridge.
Warwick Bridge Corn Mill dates from the early 1800s and is listed Grade II*. It has appeared on Historic England's At Risk Register for 15 years.
Links to the full press release and media coverage below.
Funding news: we have recently been awarded grants from Historic England, the Headley Trust and the Garfield Weston Foundation towards the Corn Mill project leading us nearer to our ambitious £2M total for the project and enabling work to commence on site to protect the building from the worst of the winter weather. Our thanks to all who have supported us so far. If you would like to support our project please get in touch!
Heritage Skills Initiative Wins European Award!
Heritage Skills Initiative has won an EU/Europa Nostra Cultural Heritage award under the Education, Training and Awareness-Raising category. The 28 award winners, selected from 263 applications submitted by organisations and individuals from 29 countries, are honoured for outstanding achievements in four categories: 1) conservation, 2) research and digitization, 3) dedicated service to heritage, and 4) education, training and awareness-raising.
Since its foundation, Heritage Skills Initiative has delivered 150,000 hours of training and engagement with over 37,000 people. Its activities range from Taster Days, master classes, lectures, conferences to a variety of tailor-made events; also there have been 11 building bursaries of over 6 months' duration and 53 heritage engineering bursaries of 12 months' duration. 91% of the engineering trainees continued into heritage and engineering employment. 40% of the participants for practical hands-on training are women. In addition, nearly 500 children between 13 and 15, from 25 schools, have taken part in the programme.
For more information about the awards and the other category winners, please see the press release below.