Update on Gayle Mill, Hawes, North Yorkshire, May 2018
The latest update on Gayle Mill is available to read below. Any additional enquiries should be directed through the Trust's main office
Leaf Open Farm Sunday - 10th June 2018
Maryport Camp Farm Open Farm Sunday
This year we are taking part in LEAF's Open Farm Sunday. (Linking the Environment and Farming)
We will be running family friendly activities about the environment, identifying food sources, planting seeds and making bug houses as well as giving you the chance to see and hear more about our plans for the farm buildings and land. We will be running tours of the site to give you an insight into the archaeology that remains below the grass and can be seen as those bumps in the fields!
The Farm will be open between 11am and 3pm with tours at 11 and 1pm - please book these in advance by emailing us or ringing the office on 0191 232 9279.
Access to the farm is on foot only from the top of Camp Road (past the primary school) - we will have signs in place to guide you.
Hylton Castle Restoration - Make yourself part of the Story
Make yourself a part of Hylton Castle! The Hylton Castle Project is hosting a number of flame glass working workshops at the National Glass Centre taught by artist Zoe Garner. In the workshops you will make glass rain drops which will become part of an illuminated glass sculpture on permanent display in Hylton Castle.
Each glass raindrop will hold DNA from those taking part. You will be invited to provide a hair sample (or other DNA) which you will encase in two glass droplets, one of which will form part of the sculpture and the other for you to take home. The final glass sculpture will be a ceiling mounted rain wall consisting of many clear glass rods and tubes, containing the DNA rain drops. The completed rain wall will be a visually stunning sculptural piece incorporating glass, light and sound in the newly re-developed Hylton Castle.
Various workshop sessions between Wednesday 16th and Saturday 20th June all at the National Glass Centre, Liberty Way, Sunderland, SR6 0GL
Book via www.hyltoncastle.org.uk/events/more-than-another-flaming-glass-workshop
If you would like to include your DNA in the sculpture but are not able to take part in a workshop, please email elanor.johnson@sunderland.gov.uk or call 07774 823311
£40 per person, age 16+ only. All participants must wear closed toe shoes and short sleeved tops.
Hard Hat Tours of Hylton Castle - your chance to get up close Tuesday 22nd May
Hylton Castle Hard Hat Tours Tuesday 22nd May at 9.15am, 12noon and 2pm
Get up close to Hylton Castle with a hard hat tour including a chance to climb the exterior scaffolding and get up close to the top turrets and the carved heraldry.
Hylton Castle is currently undergoing major construction work, transforming the 14th century castle to create a community-based, heritage-led venue for local people and visitors. Join us for a behind the scenes site tour including access to the upper levels of the exterior scaffolding to see the work in progress and find out how the historic fabric is being cared for alongside the installation of 21st century design and materials to give the building a new lease of life.
Tours last around 90 minutes including a short safety briefing. Please pre-book your place and meet at the Hylton Dene play area car park on Craigavon Road, Sunderland SR5 3PA. All visitors must wear PPE, which can be provided. Trousers must be worn (no shorts or skirts). All visitors must be aged 16 or over. £10 per person
Places are limited and must be pre-booked by visiting www.hyltoncastle.org.uk/events or calling 07774 823311
Europe Day 9th May 2018 - European Year of Cultural Heritage Event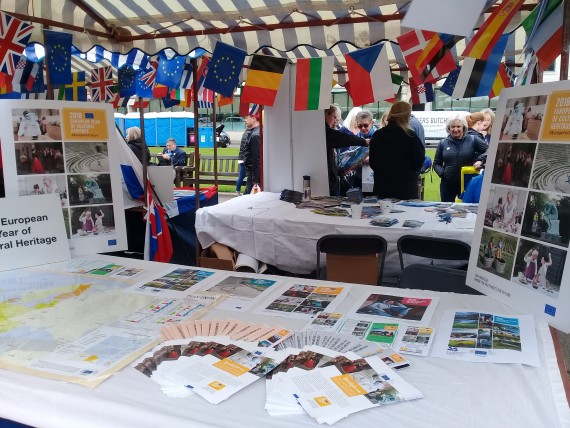 Last Wednesday (9th May) , Glasgow marked Europe Day 2018 by hosting a celebration of European culture in George Square. A host of multicultural acts celebrated Glasgow's diversity and strong relationship with Europe
Acts such as Polish folk Dance group Gosciniec and Estonian Folk duo Cätlin and Marko Mägi brought colour and a vibrancy to the event, whilst local band Hipsway from Paisley were the headline act for the ceremony. There was also a special performance from Neilston primary school and an appearance from the official mascot of this summer's European Championships which are set to be held in Glasgow. The event was addressed by the Lord Provost of Glasgow Eva Bolander and the cabinet secretary for Culture, Tourism and External Affairs, Fiona Hyslop MSP.
Croatia, the Czech Republic, Estonia, France, Germany, Hungary, Ireland, Italy, Latvia, Luxembourg, Poland, Portugal, Romania, Slovakia, Slovenia and Spain were in attendance to promote their country, culture and language. Scotland and Member States also showcased their countries through musical and dance acts.