6th September 2018- Volunteer Open Day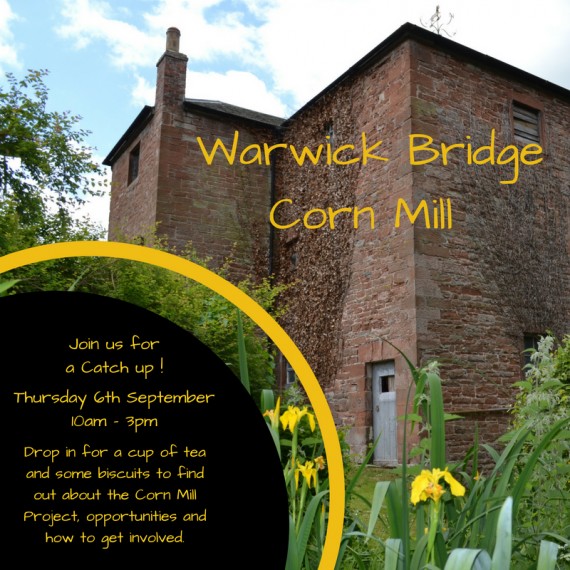 We are holding a Volunteer Open Day at Warwick Bridge on Thursday the 6th September between 10am and 3pm.
Drop in for a cup of tea, coffee and some cheeky biscuits to find out about the project as a whole and how to get involved.
Eskdale Mill, Boot, Cumbria, CA19 1TG Thursday 6th September - behind the scenes tour
Join our friends at Boot in Cumbria on Thursday 6th September for an exclusive behind the scenes 'hard-hat' tour of Eskdale Mill as it undergoes important restoration works. See the conservation builders and millwrights at work carefully restoring important features of this historic mill.
Eskdale Mill is undergoing some serious restoration to its Grade II listed buildings and mill machinery. Eskdale Mill & Heritage Trust, a community-led charity, has raised almost £1 million from Heritage Lottery Fund, Copeland Community Fund, Cumbria Fells & Dales Leader, The Pilgrim Trust, Cumbria Community Foundation, SPAB Mills Section and North West Mill Group, to carefully repair the roof, walls and internal structures, and to appoint a specialist millwright to restore the wheels and machinery to good working order.
A new exhibition and information for visitors will be developed as well as an events programme and resources for schools.Volunteers are working hard to support the work of the Trust, including researching the mill's history, recording its historic artefacts and restoring garden features.The mill will re-open its doors to the public in 2019.
Booking Details: The tour is free but due to health and safety considerations, places must be booked in advance by contacting Shirley Muir on 01698320803 or by email: shirleymuir7@btinternet.com
Heritage Open Day - 15th and 16th September

The North of England Civic Trust invites you to its Heritage Open Day at Warwick Bridge's Corn Mill in Cumbria.
Visitors can take a tour of this historic mill, currently undergoing restoration to bring it to life once again.
Warwick Bridge Corn Mill is currently undergoing work to return it to a working mill.
Visitors can take a behind the scenes tour to look at work already undertaken and hear about the Mill's fascinating history. Family friendly activities will also take place.
Attendees should ring prior to attending tours
which will be held on the Saturday 15th or Sunday 16th
(either at 11am or 1pm.)
Contact us at admin@nect.org.uk
Update on Gayle Mill, Hawes, North Yorkshire, May 2018
The latest update on Gayle Mill is available to read below. Any additional enquiries should be directed through the Trust's main office