Traditional Skills Training in Whitehaven
As part of the on-going Heritage Lottery funded Townscape Heritage Initiative in Whitehaven, there are a number of training events coming up, including lime plastering and rendering. These events are free to attend but spaces are limited so please book your place. More information below.
Camp Farm and the Alauna Roman Fort
The future of the Alauna Roman fort and a model farm at Maryport has been safeguarded by a transfer between two charities. In a deal that has taken eight months to put together, North of England Civic Trust (NECT) has acquired the site from the Hadrian's Wall Trust (HWT) which ceased trading in July 2014 and now will be wound up.
Camp Farm at Maryport is at the western point of the Frontiers of the Roman Empire World Heritage Site – one of the largest in the world. It stretches for over 3,000 miles from Maryport across Europe to the Middle East, through Syria, and along the north coast of Africa. Under the turf of the farm is the Roman fort of Alauna and its civilian settlement or 'vicus'. Over the years surveys and excavations have established the extent and international significance of the archaeology but so far this has not been fully presented to the public. HWT was the agency that promoted Hadrian's Wall around the world and had acquired the site and drawn up plans to use the model farm buildings as an international visitor attraction and interpretation centre, but the demise of the regional development agencies and funding cutbacks meant this could not be realised. The winding up of HWT put the whole future of the site in jeopardy until negotiations with NECT offered a lifeline.
2015 is NECT's 50th anniversary so acquisition of Camp Farm presents the Trust with a timely and appropriate celebration to do what it does best: take on challenging and often derelict historic buildings and bring them back from the brink. The Trust has properties around the north of England that it has rescued, including a stately home in Northumberland, a former town hall and coaching inn in Sunderland, and a watermill near Hawes in North Yorkshire that won through to a final of BBC Restoration. So what of Camp Farm?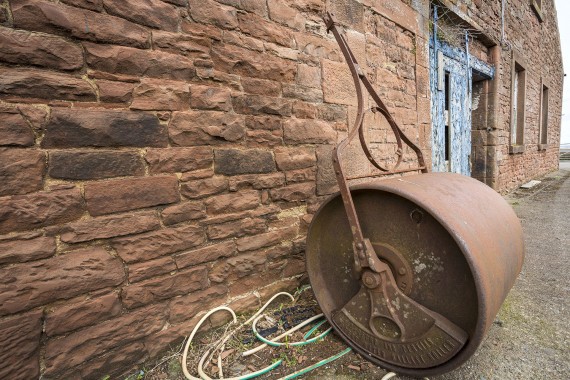 Graham Bell, Director of NECT, is excited, not daunted: "I probably spend more time treading carefully through derelict buildings than finished ones, so what I see here is not abandoned buildings and buried stones but something that if handled carefully can be brought back to life. Everyone has heard of Hadrian's Wall but Alauna is still largely Maryport's secret.
Our first question is how to share that secret so everyone gains, especially the residents and schoolchildren on its doorstep, and West Cumbria, and the wider world. Our first step will be to listen to people to build a picture of what will work best. We've begun with our neighbours, the Senhouse Museum, and think we can do great things together."
This is a strategically important site, not just for its history but its role in the economy and environment of West Cumbria. Allerdale Borough Council, Cumbria County Council and Energy Coast West Cumbria are all key players whose support has been critical.
Heritage Skills Initiative Wins European Award!
Heritage Skills Initiative has won an EU/Europa Nostra Cultural Heritage award under the Education, Training and Awareness-Raising category. The 28 award winners, selected from 263 applications submitted by organisations and individuals from 29 countries, are honoured for outstanding achievements in four categories: 1) conservation, 2) research and digitization, 3) dedicated service to heritage, and 4) education, training and awareness-raising.
Since its foundation, Heritage Skills Initiative has delivered 150,000 hours of training and engagement with over 37,000 people. Its activities range from Taster Days, master classes, lectures, conferences to a variety of tailor-made events; also there have been 11 building bursaries of over 6 months' duration and 53 heritage engineering bursaries of 12 months' duration. 91% of the engineering trainees continued into heritage and engineering employment. 40% of the participants for practical hands-on training are women. In addition, nearly 400 children between 13 and 15, from 25 schools, have taken part in the programme.
For more information about the awards and the other category winners, please see the press release below.
Durham CPD Event May 2015
Advance notice of a fantastic CPD event taking place at Durham Cathedral. Includes a scaffold tour of the Cloister! More information and booking details below.
SPAB run an annual Work Party each July for individuals, schools, apprentices and volunteers. The week is a mixture of hands on practical work with training and supervision. This year the Work Party will be held on the 5 - 11 July in West Sussex. For more information or to see highlights of last years event, please see the SPAB's website.