partner event at Sunderland Glass Centre
Sunderland Glass Centre are holding one of their Heritage Talks this coming Saturday 16th August 2014 and the subject is the industrial heritage of the Cookson family. The talk is entitled "Glass, Iron and Banking" and is being given by Dr John Banham of Durham County Local History Society. The talk starts at 12.30 pm.
Complimentary Tea, Coffee and Biscuits are available.
Exchange Buildings Sunderland Bicentenary Event
Wednesday 14th of May 12014 marked the bicentenary of the opening of one of Sunderland's most iconic buildings, Exchange Buildings on High St East. The Mayor of Sunderland, Cllr Robert Heron unveiled a new plaque marking the importance of the building's life at the heart of the city.
Opened in 1814 thanks to the generosity of local people who acted as subscribers, Exchange Buildings was designed by John Stokoe of Newcastle upon Tyne. A total of £8,000 was raised with each share worth £50, that's almost £3000 in today's money. The list of subscribers alone makes a fascinating read with brewers, chemists, rope makers and portrait painters sharing the same desire to create a commercial, cultural and administrative centre for the rapidly developing port area.
The building was the scene of a number of important social events and guests including the writer Sir Walter Scott, who commented on the 'handsome entertainment' and vast quantity of food and drink consumed. Following a cholera epidemic in the 1830s the building entered a period of decline and was even once threatened with demolition. Following a phase of redevelopment with support from a number of funders including the City Council English Heritage and Heritage Lottery Fund the building is now restored to its former glory and hosting parties again with the Quayside Exchange a popular venue for weddings, parties and conferences.
Graham Bell, Director of the trust was delighted to welcome not only the Mayor to the unveiling ceremony but also Terry Deary, the Sunderland born best-selling children's author, who address the invited guests.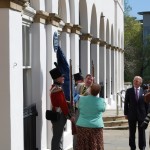 Graham said "I am so pleased to see the Exchange Buildings recognised for the important part it has played in Sunderland's civic life as well as its high architectural and historical significance. The building has a fascinating and important story to tell and so it is entirely appropriate that Terry Deary has kindly agreed to mark this occasion as we look forward to the next chapter in this elegant building's history".
HSed Project is subject of academic article
Alistair Galt who led the teams from Durham University in 2013 has published an online article about the experience of taking part in the project. You can read the article online at the link below.
The Trust has been supported over the last financial year by Key Fund, who have helped the trust to develop its infrastructure and staff.

Opportunities for community consultation