Rothbury Trenches - uncovering the story
Trenches on Northumberland moorland above Rothbury on which troops trained before being sent to face the real thing in First World War France are to be revealed in a project backed by Lotttery Funding.
Working in partnership with Northumberland County Council, the Forestry Commission and Woodhorn Museum, we are helping to provide access to a little known piece of the region's history.
An authentic learning experience will be created with temporary site facilities, including the building of a replica trench, and specialist education staff will and information packs will be created so that a series of workshops and tours to the site are available to the whole community.
As the programme develops we will be publicising activities and creating a legacy for the future.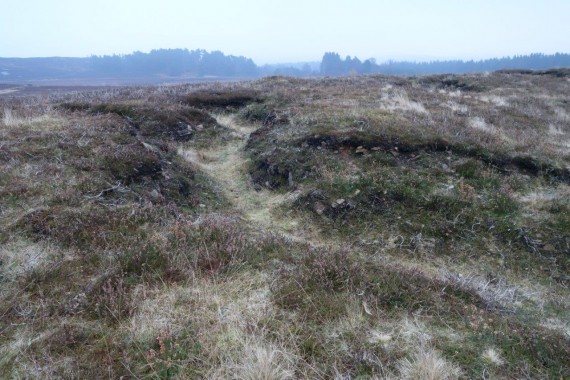 It is thought that the practice trenches were probably dug by the 18th(Service) Battalion (1st Tyneside Pioneers) Northumberland Fusiliers in the winter of 1915 to 1916 and it is hoped that during the project we will be able to uncover some of the stories of soldiers stationed in the area at the time.
May 2017 Update.
Works to construct a replica trench have now been completed and information packs have been sent to schools in the region. The first school visits will begin in early June and continue during July, September and October. If any school group would like to take part in activities, please contact the education team for further information.
There are also several open access days for members of the public - these are on Sunday 30th July, Saturday 19th August and Sunday 10th September. Each of these will have a full programme of activities for the whole family.
For the most up to date information Follow the project on Facebook (@RothburyTrenches) and Twitter (@WWITrenches)
July update. We have now hosted at least a dozen school visits, and despite the variations in the weather experienced in the last few weeks, all have greatly enjoyed their visits and come away enthusiastic and informed, with a greater awareness of the conditions experienced by the troops.
The first of the community open access days is being held on Sunday 30th July as part of the Festival of Archaeology 2017. Visitors can enjoy tours of the trenches, experience what life was like for the soldiers in our replica trench, hear about the amazing trench art produced by soldiers from spent shells and other materials, as well as other activities. There will be a free shuttle service from the main Haugh car park (by the riverside) and an information point in the village to direct visitors and where anyone with information about family members who may have been involved in training up on the site can pass on their stories. More details of the day can be seen on the archaeology website link below.
August update. Join members of Durham Pals on the moor above Rothbury on Saturday 19th August and experience life as the soldiers of the 18th Batallion did as they prepared to go to war. Family oriented day with a storyteller, exhibition, trench art, replica trench where you can practice your skills and tours of the trenches on the moor. Free shuttle bus service every half hour from the Haugh car park in Rothbury from 10.30 until 4pm. More updates on the project facebook page @Rothbury Trenches