Old Fire Station, Bishopwearmouth, Sunderland
Family Activity Day - Friday 11th August see poster below for full details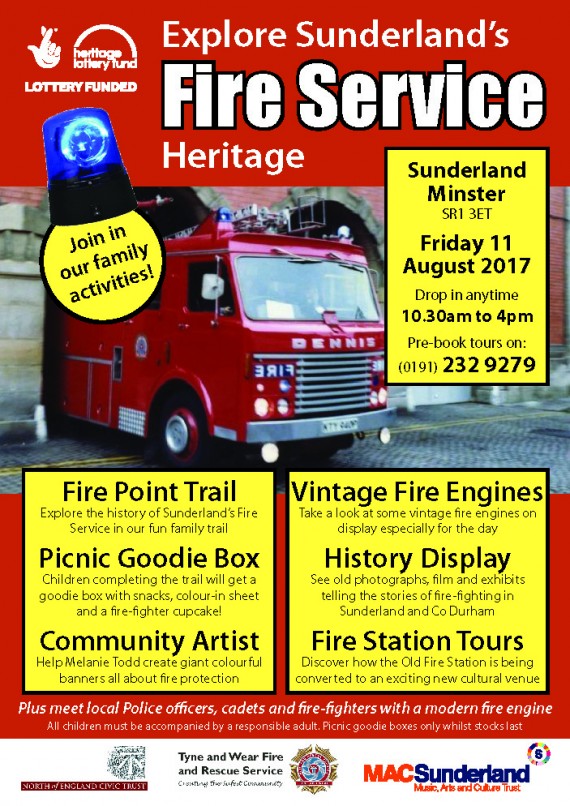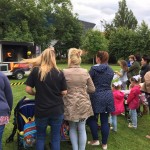 An enjoyable day was had by all who attended the family activity day on 11th August, with families learning about fire prevention techniques, vintage films and photographs gave a glimps of how firefighting was tackled in the area in the past, and some retired firefighters from the Dun Cow Fire Station were on hand to talk about their experiences, getting up close to some vintage engines and dressing in old uniforms amongst the activities on offer. Enthusiastic young artists helped to create some colourful silk banners which it is hoped can be displayed in the fire station once the renovation works have been completed. Members of the local police cadets and neighbourhood police teams were also present. Families joined in the activity trail which led them around the park area hunting for clues and they were rewarded with goodie boxes and colouring sheets on completion.
We were commissioned during the summer of 2015 to produce a Conservation Management and Maintenance Plan for the former Fire Station in the Bishopwearmouth area of Sunderland, Tyne and Wear. This fed into a Heritage Enterprise Bid that was submitted to the Heritage Lottery Fund by a partnership including Sunderland City Council, Buckley Burnett Architects and the MAC Trust.
As part of the MAC Trust plans for the renovation and regeneration of the Bishopwearmouth conservation area, the old fire station is seen as a key site which has been unused for the last 20 years or so. Although unlisted, it contributes significantly to the character of the local area, and has an important role to play in the firefighting story of Sunderland. Engaging with former firemen stationed at the site gave us a great insight into the social history of the area and guides recommendations on the potential future use of the building.
The funding bid was successful and a grant of £2.4Million was awarded to the partnership. NECT was asked to produce an Activity Plan that would give innovative opportunities for community engagement throughout the renovation of the building. NECT remains involved, and is co-ordinating the Activity Plan to be delivered during the works. The events, aimed at families and members of the public will be taking place during late Spring and Summer 2017, As the dates for events are confirmed they will be posted on our website news page.