Conservation Statement for Birdoswald Roman Fort, Gilsland, Cumbria
The Trust was appointed to write a comprehensive conservation statement to inform the future use and management of the site and its setting. There is a range of heritage assets so a comprehensive approach is needed to address all of these in one document. According to English Heritage reports Birdoswald is one of the most researched sites along Hadrian's Wall. A key part of this new piece of work will be to look at the wider setting and landscape character of the site and re-evaluate the listed farm buildings and interiors – tying these two strands of research and evaluation together with what is known about the archaeological significance of the site will produce a comprehensive understanding of the layers of significance at the site.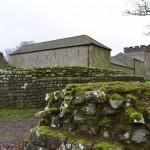 This piece of work will help to determine what happens on the site as a whole, and ensure that the historic signifance of the whole site is understood and managed in a sympathetic way. Birdoswald is one of the many Roman sites along Hadrian's Wall linking Cumbria and Northumberland, but the farm and buildings surrounding the Roman remains have a story to tell too.