Open Farm Sunday 10th June 2018
We are taking part in Open Farm Sunday this June, and will be running family orientated activities including tours of the farm, identifying food sources, planting seeds and making bug houses. For more details please see the Farm Sunday website
Archaeology Seminar - 25th April 2018
We are delighted to be working with the 6th form students from Netherhall School in Maryport to deliver a seminar on the archaeological works that have been carried out over the years on the land at Camp Farm. We will also be sharing our ideas for the future of the farm and buildings.
Senhouse Museum - guided tours of the fort 2018
Senhouse Museum volunteers will be leading guided tours of the Fort on Sunday afternoons throughout the year - depending on the weather. These will take place at 2pm and 3.30pm every Sunday. In addition there are some Summer Holiday Specials - Extra afternoon tours are being held daily from Saturday 21st July until Monday 27th August from 2 - 4pm. Please see their website for more information and booking details.
New book - available now - Maryport, a Roman Fort and its Community
Renowned expert Professor David Breeze has published his latest book on Roman Maryport - focusing on the archaeological collection and history of excavations on site. Although t the north-western edge of the Roman Empire, Maryport provides material if international importance for our understanding of the Roman state. See flyer below for details of how you can buy your copy.
Senhouse Museum - Hadrian's Cavalry September 2017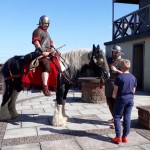 At the start of September, the Hadrian's Cavalry project came to the Senhouse Museum to show people what it would have been like being a mounted soldier and groom during this period. Visitors were able to see the horse and rider in training - ensuring the horse was properly schooled and ready to work, as well as seeing typical clothing and armour that would have been worn. "Blue" had a very comfortable overnight stay in the fields at Camp Farm, enjoying the grazing.
Senhouse Roman Museum - Hadrian's Cavalry Lectures February/March 2017
24th February 7.30 pm - Prof. David Breeze OBE - The first cohort of Spaniards at Maryport and the unique infantry and cavalry units of the Roman army Professor Breeze is well known to anyone with an interest in Roman Britain and Hadrian's Wall. He has excavated on both Hadrian's Wall and on the Antonine Wall and written many books and articles about the Roman frontiers of Britain. Hhe was one of the founding Trustees of the Senhouse Museum Trust and, since 2013, has been the Chairman.
3rd March, 7.30 pm - Professor Miranda Aldhouse Green - Epona Miranda Aldhouse-Green is Professor of Archaeology at Cardiff University. She is a leading authority on Iron-Age and Romano-British beliefs and ritual. She has published many books and articles on Celtic life and religion. Professor Aldhouse-Green will be talking about Epona and some of the other Roman-British or Celtic deities that can be found at Maryport.
10th March, 7.30 pm - Mike Bishop - Games within frontiers: Unmasking the Roman cavalry Mike Bishop is an archaeologist, writer and publisher, and an authority on Roman military equipment. He provided much advice and support for the HAdrian's Cavalry exhibition.
17th March, 7.30 pm - Lindsay Allason-Jones - Roman equestrian tombstones Lindsay Allason-Jones is well known as the Director of the Museum of Antiquities at Newcastle University (now housed within the Great North Museum). She is an authority on Hadrian's Wall and Roman Britain, and advisor and contributor to many films and TV programmes including Time Team.
Tickets for each lecture can be paid for on the door, and cost £4 for adults and £1.50 for under 18s.
Senhouse Roman Museum - Writing Workshops with Angela Locke and Nick Pemberton
Following the successful writing workshops at the Wild Literary Festival held at the Museum in November 2016, two of Cumbria's most inspirational writing tutors have been invited to lead a series of workshops during February and March. Angela Locke will lead a series of creative writing workshops during February and Nick Pemberton will be leading a series of poetry writing workshops in March. The workshops are supported by a grant from Arts Council England
Creative Writing with Angela Locke, 1030 - 1.30 pm
Thursday 2nd February, Thursday 9th February, Thursday 16th February, Thursday 2nd March
Poetry writing with Nick Pemberton, 1pm - 4pm
Tuesday 7th March, Tuesday 14th March, Tuesday 21st March, Tuesday 28th March
Cost is £6/per session. Places must be prebooked and are limited to twelve participants. For further details and to book a place on any of the workshops please contact the Museum Manager either by phone on 01900816168 or by email
Angela Locke holds an MA in Creative Writing, and has facilitated many successful writing workshops, notably on Iona and in the Englaish Lake District. She is a novelist, travel writer, children's writer and journalist, often using the Lake District, where she now lives, as a background for her books, and an experienced creative writing tutor leading writing retreats across the UK and in France. In 2003, while she was a Writer-in-Residence on Hadrian's Wall, she started the successful Maryport Writers, which still continues. The Senhouse Roman Museum has asked her to tutor a series of writing workshops this spring to encourage new writer.
Nick Pemberton is known for his plays, paperbacks, comic strips, poems and newspaper articles. His varied career included working in a circus followed by teaching creative writing at the Carlisle Institute of the Arts, which became the Brampton Road campus of the University of Cumbria. On retirement Nick bought a boat and sailed it to Maryport. He is an inspiring creative writing tutor and participants in March can expect a lively and engaging series of workshops. Absolute beginners will be very welcome, as well as those who have more experience.