Gayle Mill, Hawes - BPT project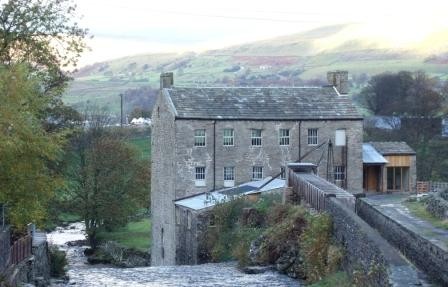 This was a complex project for the restoration of a Grade II * listed mill and associated machinery, turbines and leat, which had lain empty for more than a decade and was at risk. The site is also a scheduled monument. North of England Civic Trust became involved at the request of the Yorkshire Dales National Park Authority, and went on to raise funding of over £1.1 million from HLF, English Heritage, Yorkshire Forward and others, to acquire the mill and to project manage the restoration. The project was included on BBC Restoration, and was one of only a handful that had actually been completed when a Restoration Update programme was screened in the spring of 2009, having opened to the public in 2008.
A Friends group was established from the local community and from that, with the assistance of NECT, Gayle Mill Trust was formed. Gayle Mill Trust now operates the mill as a centre for woodworking excellence, providing training in traditional skills, a visitor attraction and an example of energy sustainability within the National Park. Details of all events at Gayle Mill can be found on their website here
Harrogate St Mary's - Options Appraisal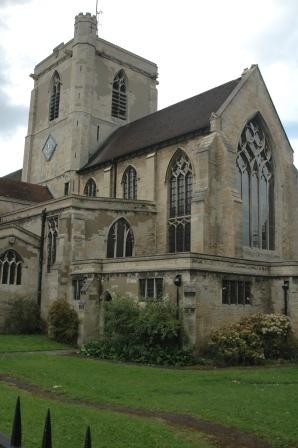 NECT was commissioned by the Diocese of Ripon and Leeds to assist in the disposal of Harrogate St Mary's - a recently declared redundant church, which is Grade II* listed and on English Heritage's Buildings at Risk Register. Technical problems have plagued it since it was built, resulting in an extraordinary archive of investigative reports that failed to bring about a solution, and will no doubt have been a contributory factor in the closure of the church.

With its future more uncertain than at any time in its history, NECT provided technical guidance and an informed conservation approach to examine options for appropriate re-use. The focus was placed on the performance of the roof and the rainwater goods, alongside preparing a long-term management regime to tackle problems associated with the stonework.
Richmond Station, North Yorkshire - Conservation Plan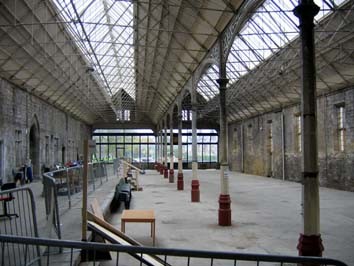 Richmond Station is a Victorian passenger terminus, built during the railway boom. The line was engineered by Robert Stephenson and the terminus sits within a complex of railway buildings just over the river to the south of Richmond, but within easy walking from the town centre.
Richmond Building Preservation Trust approached NECT in 2005 to write a Conservation Plan for the station ahead of proposed developments at the terminus. Much of the station still existed for either residential or commercial purposes, but the terminus remained an empty vacant shell. The Terminus building is listed as Grade II* and sits within a Conservation Area. Richmond BPT received funding from the Heritage Lottery Fund and the local authority to develop the site into community and heritage facilities. Their plans included placing a pod in the station to transform the internal space into several smaller ones for use as a theatre, cinema, restaurant and exhibition space over several levels.
The Conservation Plan informed the bid for Heritage Lottery funding. Alongside this, other consultants were working on an access, audience, training and business plans, requiring careful co-ordination to ensure all the plans complemented one another.
Restoration of the site was completed through the BPT and it was officially opened in December 2007.
Buildings audit, for Thirsk Regeneration Initiative, to identify opportunities for environmental improvement and economic development.
Buildings audit and property search, and associated training of local heritage volunteers in recording techniques, Whitby Regeneration Partnership.