Alnwick - Character Appraisals of Potential Conservation Areas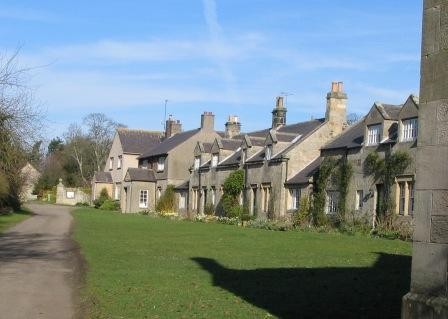 In 2006, Alnwick District Council appointed NECT to analyse seven areas for potential designation as conservation areas: Amble, Boulmer, Craster, Embleton, Guyzance, Rock and Whitton. The final report for each area identified whether or not it should become a conservation area as well as outlining its proposed boundaries and options for the boundaries of surrounding area.
To produce viable working reports, we carried out a great deal of public consultation. By using leaflets, press releases and holding public meetings, we were able to draft these documents with community support. The findings were then presented to the Council, which eventually designated five of the seven as conservation areas.
Bedlington and Newbiggin-by-the-sea, Northumberland Character Assessment and Stage I THI Bid
Character appraisals, management proposals and design guides plus preparation of successful Stage I Townscape Heritage Initiative bid to HLF.
Belford Hall, Northumberland - BPT project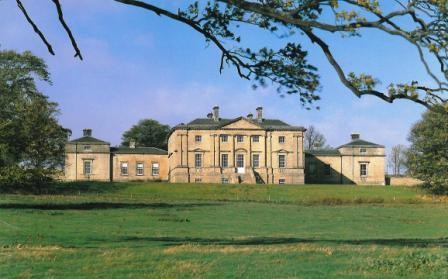 Belford Hall was designed in the Palladian style by James Paine, and built between 1754-6. It was remodelled circa 1817-18 by the renowned Newcastle architect John Dobson, with the addition of two wings. Grade I listed and described by Sir Nikolaus Pevsner, in The Buildings of England series of architectural guides, as "both restrained and yet animated...one of [Paine's] most satisfying designs", it was, nevertheless, heading for dereliction by the 1980s, following requisition by the army during WWII and subsequent neglect.
At this point, NECT became involved, along with the Monument Trust, in a plan of rescue which enabled its conversion to 16 apartments. The Trust still retains the freehold as custodians of the Hall's heritage, ensuring that the leaseholders fulfill their commitments with regard to maintenance.
Over the last few years, NECT has been working with Gateshead Council and Bensham Grove Community Association to help access funding to restore the historic Victorian interior of Bensham Grove. Funding has been secured from the Heritage Lottery Fund and work is about to start on site with the aim of this being completed by 2015.
Berwick, Northumberland - Character Appraisals and Management Strategies
In 2006, NECT was asked by Berwick upon Tweed Borough Council to prepare 2 character appraisals and 3 management strategies for Berwick, Spittal and Tweedmouth. Already having the largest and most elaborate conservation area in Northumberland, the Berwick project represented a very significant and rewarding opportunity.
Rather than becoming involved in the process after the initial planning stages, the Council chose an extremely innovative approach and asked for NECT's involvement during the pre-planning phase. With the support of the County Council, One Northeast and English Heritage, NECT aimed to generate as much public involvement as possible in the process to create a viable long-term strategy focusing on future development and wider regeneration in the area. The published results would then be used in greater public consultation run by the Council.
With this aim in mind, public consultation led by NECT involved numerous walkabouts, drop-in sessions, workshops and public meetings. These events aimed to encourage local community members to get actively involved in the planning process.
These groundbreaking public consultations were incredibly successful, and the process provided an opportunity for people to understand and become actively involved in drafting character appraisals and management strategies, enabling them to take some ownership over the process as a whole.
Blyth Battery, Northumberland
Conservation Plan, Site Interpretation, Education Outreach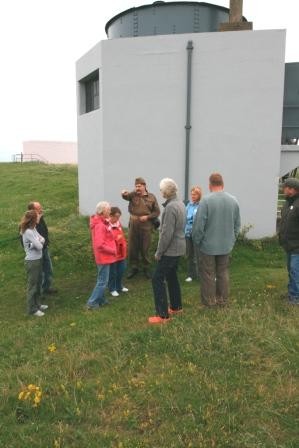 Blyth Battery was built in 1916 to defend the port of Blyth and the submarine base there during World War I. Upgraded for re-use during World War II, it is the most intact, accessible and intelligible coastal defence battery on the north east and Yorkshire coast, with individual buildings and features of considerable rarity. It comprises two building groups – a twin coast defence gun emplacement and a twin searchlight emplacement, each with associated buildings. Handed to the local authority in 1925 and recommissioned for World War II, it has since been absorbed into the wider recreational use of the Links, a 2-mile stretch of formal and informal open space south of Blyth town centre. All the main buildings survive, but virtually all signs of the compounds, temporary hutment camps (for off-duty personnel) and false concealment structures are gone. The Battery's buildings are scheduled and listed Grade II, and the site is also within a local nature reserve.
NECT was commissioned in 2004 to prepare a Conservation Plan, and worked closely with the Friends of Blyth Battery group (now Blyth Battery Volunteers) to produce site interpretation, with the group exploring the different Battery stories that needed to be told. Funding of over £1/2 million was secured by the former Blyth Valley Borough Council to repair the historic fabric, create usable visitor space, provide interpretation and to employ a part-time heritage officer over 3 years, hosted by NECT, to promote usage of the site. Elanor Johnson began work in 2009. Since then, thousands of schoolchildren of all ages have visited Blyth Battery to discover more about the wartime heritage of Northumberland. Pupils explore the historic buildings, find out what life was like in the Homeguard, and take part in various practical, hands on activities to bring the site to life. In addition to school visits, Elanor has worked on a number of projects with local schools to improve pupil skills in History and Literacy. Responsibility and the day to day running of the project has now been handed over to the Blyth Battery Volunteers who will continue the work.
Blyth Battery is open to the public every weekend from April to September, as well as on other weekdays when possible. The site is manned by the Blyth Battery Volunteers, who also put on special events, re-enactments and displays. For more information visit the Blyth Battery website.
Bowes Railway, Springwell, Gateshead
NECT has been working with the Bowes Railway Company over the last few years to help them access funding to help develop the activity plan and interpretation for this nationally important site.
Bowes Railway is the only preserved and operational example of a full gauge powered and self acting gravity incline railway in the world. The system was originally developed in 1825 to a design attributed to George and Robert Stephenson. It was the most important part of the complex of railways built to transport coal from pits located in the folds of the North Durham Coalfield to ships moored on the River Tyne. The system allowed full wagons to haul empty wagons up the valley slopes using an ingenious arrangement of raised platforms, hollows and brakemanship. Powered rope haulage was introduced to support the gravity system over level tops of the valleys. The mixture of gravity and powered machinery continued to move wagons until the closure of the railway in the early 1970's and continues to endure through the activities of the company.
The Springwell colliery complex at the heart of the Bowes Railway comprises a range of C19th and C20th workshops built to support the operation of both the colliery and the railway. The arrangement of the workshops is of historic interest, illustrating the range of trades and crafts employed before the closure of the colliery/railway. The workshops are still fully equipped with a range of pre-closure machinery which allows the Railway and its mix of haulage systems to remain fully operational. They also provide a training venue for developing engineering skills. The asset includes a museum and archive and a wide range of C19th and C20th rolling stock, most of which worked the Bowes line.
Bridges Conservation Area, Gateshead - Stage II Townscape Heritage Initiative Bid
NECT led a multi-disciplinary team in preparing a successful Stage II THI bid to the Heritage Lottery Fund for Gateshead's original commercial heart on the banks of the Tyne. The bid concentrated on using the area's rich heritage of railway infrastructure as a backdrop to building restoration and public realm improvements, contributing to a fascinating Victorian enclave saturated with historic bridges, viaducts and station sites.
Byker, Newcastle - Conservation Plan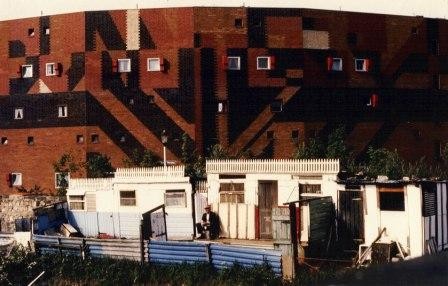 Byker is a large housing estate in the east of Newcastle upon Tyne, built between 1969 and 1983 to a master plan by British architect Ralph Erskine. It comprised 2010 dwellings (a mix of low and medium rise houses, maisonettes and flats, with local facilities) covering around 81 hectares (200 acres) in a dramatic south-facing amphitheatre site, overlooking the River Tyne gorge. It is regarded by many as one of the most important and influential social housing schemes of that period, both in the UK and internationally. Its status has been recognised as nationally significant by the Department of Culture, Media and Sport, which listed it as Grade II* in January 2007, and it is currently the subject of conservation area proposals by Newcastle City Council. It is also home to around 9,500 people and identified by the Council as an estate on 'amber alert', requiring urgent stabilisation and investment to address a wide range of social and environmental issues.
NECT produced a conservation plan in anticipation of listing designation, working with the City Council and English Heritage.
Eagle and Exchange Buildings, Sunderland - BPT project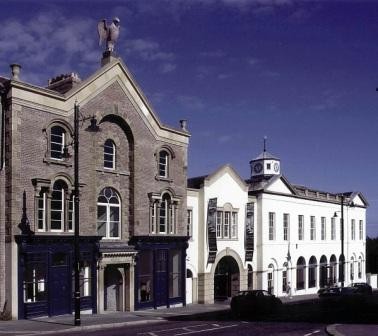 Set in the historic core of Sunderland, the regeneration of these two buildings was seen as the catalyst to revitalising the area. NECT, working in partnership with Tyne & Wear Development Corporation and Sunderland City Council, acquired the buildings and went on to develop the business case for investment, apply for funding and to project manage the capital works. Exchange Buildings (listed Grade II*) was restored with the assistance of an HLF grant of £2.7million and brought further investment of over £1million and creation of over 60 jobs to the site, whilst the adjacent Eagle Building was restored through a complex funding partnership involving Sunderland City Council, English Heritage, ERDF, TWDC and English Partnerships at a cost of £1.8million, and now serves as managed workspace to start up businesses. Representing a tangible investment in the local economy, the projects demonstrate that regeneration and conservation can go hand in hand.
Fish Quay, North Shields - Conservation Plan, Conservation Area Management Strategy, Community-led Character Appraisal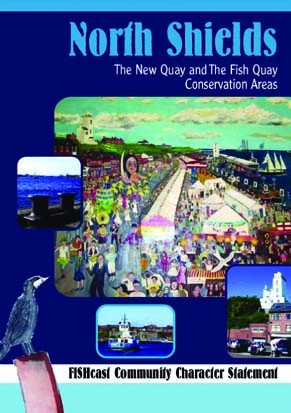 Fish Quay is a fascinating historic quayside area at the mouth of the Tyne. Centuries of development have resulted in a scheduled 17th Century fort, several listed buildings including four lighthouses and several pubs, and an eclectic surrounding townscape with a dramatic and distinctive sense of place. NECT has been involved with several projects in the area, aimed at bringing a better understanding of the area's time-deep heritage to investors and local people alike:
• A major conservation plan for Clifford's Fort was completed, which led to significant English Heritage capital funds to begin the exposal of the fort from beneath decades of later buildings and infrastructure, revealing its dramatic riverside setting.
• Conservation area status for the Quay, initiated by the Council to help guide investment and bring in additional funds with major structural and developer investment in mind.
• A community-led project to research, write and consult on a Character Appraisal for the conservation area, which brought together and facilitated a group from FISH (Folk Interested In Shields Harbour), producing a document for use as a key planning tool for the future of the area.
• Fish Quay Heritage Partnership funded by English Heritage through conservation area funds and chaired by NECT, bringing local people, conservation specialists and property owners together to decide how the money will be spent.
Hartlepool - Grange Conservation Area, Park Conservation Area Character Appraisals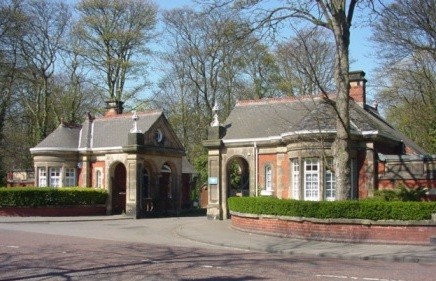 In 2007, Hartlepool Borough Council commissioned NECT to prepare a character appraisal of Park Conservation Area, an historically and architecturally significant area in the western suburbs of Hartlepool. A steering group was formed from local residents and included the mayor of Hartlepool. A draft of the appraisal was completed and commented upon by the steering group, it went out to public consultation (which included leaflet drops and a public drop-in session), and received a very positive response.
Following this, in 2008 the Council commissioned an appraisal of Grange Conservation Area, which lies between the Park Conservation Area and the town centre.
The completed documents now serve as a planning tool, which will assist the preservation and enhancement of the character and appearance of these Conservation Areas and increase understanding and enjoyment of the areas' heritage.
Hylton Castle, Sunderland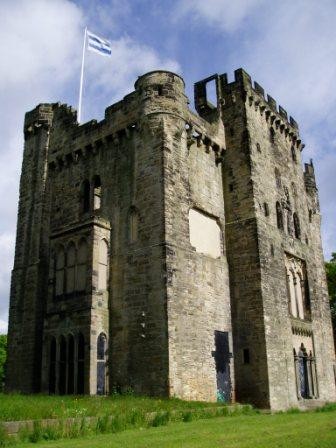 Consisting of a substantial four-storey former gatehouse dating from c.1400 and St Catherine's Chapel (early 15th century), Hylton Castle is said to be Sunderland's oldest secular building. The buildings are scheduled monuments, listed Grade II* and under the guardianship of English Heritage.
In 2005, NECT was commissioned by the Castle in the Community, with the support of English Heritage and Sunderland City Council, to complete a feasibility study for the Castle. Beginning as a community-led initiative to see if this underused resource could benefit the local community, the study quickly revealed that success would rely on collaboration between a number of different stakeholders including Sunderland City Council, English Heritage and HLF.
It became evident that bringing these buildings back to life without detracting from their historical significance would only be possible if the surrounding Hylton Dene was considered as part of the historical and operational site. It was determined that the buildings could be sensitively repaired and brought back into use to provide new community, education and visitor facilities. The repair work went hand-in-hand with opportunities for community involvement, education and skills training.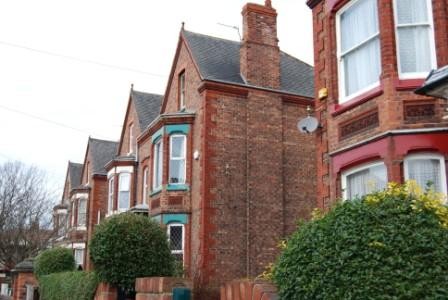 Kirkleatham Hall, Stables and Parkland, Redcar - Conservation Plans and Use-testing Study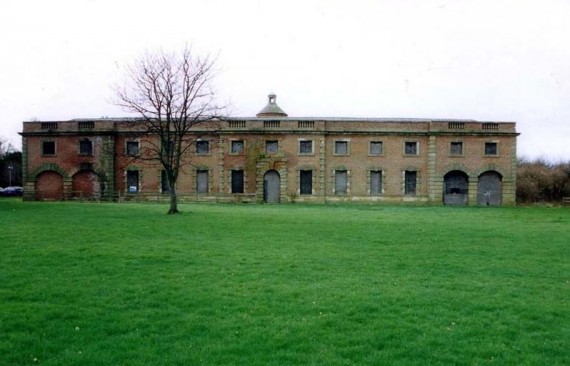 Over three separate commissions, NECT has produced a comprehensive study of major parts of the cultural landscape at Kirkleatham, a village with one of the highest concentrations of Grade I and II* buildings at risk in the region. It included a realistic use-testing study to analyse the sites' future development potential. The studies are now in use to secure a solution.
Laing Art Gallery, Newcastle - Conservation Plan
This grand Baroque sandstone gallery, built in 1903-4 by Cackett & Burns Dick, is one of the most striking and sumptuous public buildings in the city. The gallery is home to over 21,000 works of fine and decorative art with international significance but the building, listed Grade II, was not built to house permanent collections and so demand for space is high, with increasing pressure on the historic galleries to display everything from Gaugin oils to Henry Moore sculpture.
The Conservation Plan undertaken by NECT in 2003 concluded that far from threatening the Laing's heritage merits, a bold new extension could help relieve pressure for change in the historic galleries and provide the opportunity for striking modern architecture in the city centre. The plan helped to decide how best to develop the future of the Laing whilst respecting what has gone before. Additionally, the conservation-led approach firmly upheld the Laing's status as one of the leading regional art galleries in Britain. The extension was completed in 2005.
Middlesbrough Historic Quarter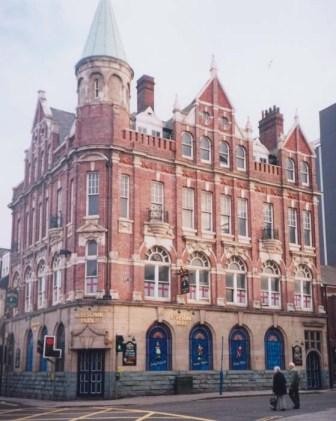 In 2000 North of England Civic Trust (NECT) were appointed by Middlesbrough Council and Middlesbrough Town Centre Company to lead the preparation of a Heritage Lottery Fund (HLF) Townscape Heritage Initiative Stage 2 funding bid.

Focusing on the Middlesbrough Station Conservation Area, the bid incorporated a boundary review and a character appraisal for the area, as well as a detailed Action Plan. It included: links with other initiatives and organisations, profiles of eligible buildings within the area, a building gazetteer, guidance notes for applicants, sample data sheets for eligible properties and the job description for a conservation officer post. NECT ensured that the information provided was reliable and could be used to determine the scope, priorities and methodology for the five year programme by working with chartered surveyors and officers from the council and Town Centre Company, as well as an architect and cost consultant.
The Stage II bid produced by NECT was successful in receiving a total of £2.1m funding (35% HLF, 65% Single Regeneration Budget and others). Work started during 2002.
Northumberland Baths, Newcastle - Conservation Plan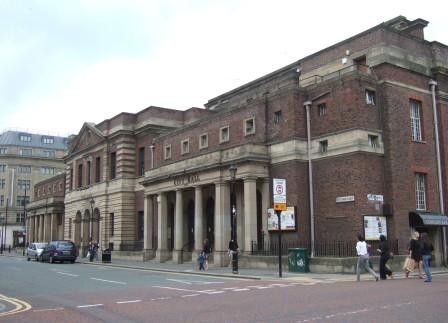 In 2009, NECT was commissioned to produce a conservation plan for this historic building, one of only four listed 1920s Baths buildings in England. It includes a Turkish bath - one of only 18 still operating in Britain (only seven of which are listed). Amongst the first public buildings in Newcastle after World War I, it has a strong neo-Georgian street presence, with Art Deco undertones.
Patterns of Experience, Newcastle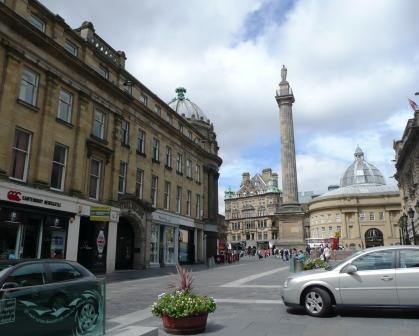 NECT prepared a character appraisal for Newcastle upon Tyne Central Conservation Area, in response to a commission by Newcastle City Council in 1996. It was compiled in partnership with NECT's Conservation Panel and the Conservation Officer for the Council. This study provided a tool with which change could happen throughout the Conservation Area. It also provided background information and a strategy for dealing with the Grainger Town part of the City. Newcastle has developed rapidly during the last 15 years, and Grainger Town has been seen as a huge European success in terms of regeneration.
Spanish City, Whitley Bay - Conservation Plan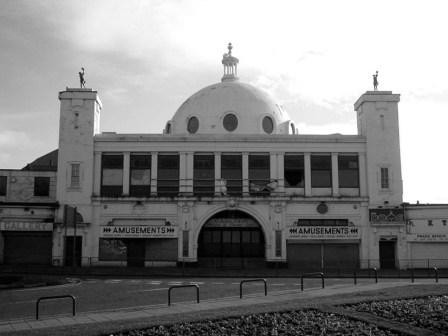 Spanish City is a collection of seaside pleasure buildings and grounds built in 1910 on the Whitley seafront. It was listed in 1986, partly as a result of its early use of reinforced concrete. Defined by its large iconic white dome, Spanish City went on to become the focus of Whitley Bay's 20th Century seaside holiday heydays until its decline and vacancy by the end of the century. A conservation plan was commissioned by North Tyneside Council in 2004, at a time of expected investment to help regenerate the town. It was designed to enable strategic and detailed decisions that would protect its significance and help set the scene for a conservation-led future. It identified that Spanish City was significant not only for its Edwardian Baroque architecture, unusual construction, and its striking townscape presence, but also for its history, both in the context of seaside pleasure buildings and, perhaps more importantly for its future, in the context of local residents' affection for the site.
The Plan clearly set out the main risks and issues affecting Spanish City, including vacancy, physical condition, extensive previous alterations, setting, interpretation and presentation, and gave policies which would help control them in the light of expected investment by the Council. It confirmed basic conservation-led principles to underpin its future, and to secure a careful balance between the needs of its fabric and character, and its sustainable restoration and re-use.
Tynemouth Station, Tyne and Wear - Conservation Plan and Conservation Strategy
Strong, independent conservation plans are often required where there is real tension about the future of an historic place, as well as great potential. This was the case with Tynemouth Station, a striking Grade II* listed Victorian railway station, still in use by the Tyne & Wear Metro. Stakeholder consultation showed attitudes had polarised from restoration with development to restoration versus development. With the agreement of all stakeholders, NECT was appointed by the owners to complete an independent review of the way forward, in the form of a conservation plan. It dealt with potential conflicts of commercial viability versus conservation intent, expectations versus reality, and significance versus risk, and it took as its basis a key assumption which had been missing from the original vision – that development should benefit the historic environment, not just the developer. The plan concluded success could only be achieved by swift, collaborative effort based on understanding and responding to significance, and new resources to conserve and establish viability. Under a separate commission, NECT was later asked to produce a detailed feasibility study and delivery strategy to encourage the owner. This was used to help secure agreement and funding for a way forward.