Heritage Skills Training at Brancepeth Castle, County Durham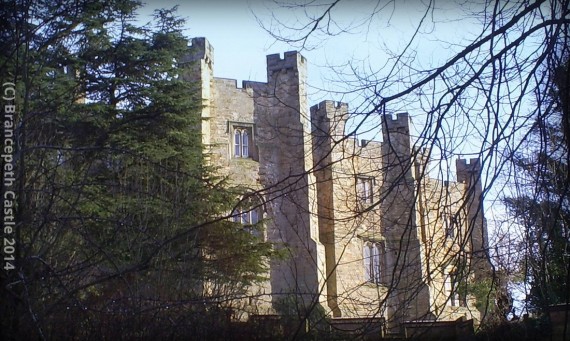 The Trustees of Brancepeth Castle are offering the opportunity to attend two skills training sessions at the Castle on Thursday 26th April, both of which will be hands-on sessions. The morning session will focus on the repair of the medieval curtain walling rubble stonework, including lime re-pointing works. the afternoon session will focus on traditional roof work, including lead work and associated conservation methods of treatment and repair. The training is being led by restoration specialists working on site. The castle architect will be talking about the history of the site and how that has helped inform the design approach to the conservation challenges in the current repairs programme.
This skills training day is offered free of charge and made possible by the generous support of Historic England in funding the repairs and the generosity of contract staff in giving their time. Both sessions are limited to a maximum of 20 participants per session, and you can book for one or both sessions. Please email us to reserve your place.
Scottish Lime Centre Training events 2018
A varied programme of traditional skills training being held at their regional training centres in Fife. For more information on any of these courses see the full details that are available on their website or email them but highlights include the following:-
Traditional Roofing Masterclass 20th April - an alternative Masterclass with opportunities to view demonstrations of traditional roofing practices and a chance to 'have a go' (so don't wear a suit!). All PPE will be supplied (except for site boots)
Making and Using Hot Mixed Lime Mortars 24th April one day course for contractors - course is being repeated on 18th May
Introduction to Lime based Mortars for Civil and Structural Engineers 2nd May one day introductory workshops
Specifying Hot Mixed Mortars for Professionals 4th May of interest to all those involved in historic building restoration
Lime Pointing Course 12th May A practical 'hands on' training day, attendees will learn to undertake re-pointing works with confidence. This course will give a sound understanding of traditional building technology, repair techniques and the materials to use when carrying out re-pointing. Attendees are encouraged to bring along images of their projects to discuss with the SLCT tutor on the day
Surface Repair of Stone 21-22nd May this two day course is designed to ensure successful surface repairs to flat work, angles, corners and moulded details. The decay mechanisms of stone will be discussed along with the factors that should be taken into account when deciding if a surface repair is a suitable alternative to replacement with new stone, as well as plenty of hands on training.
If you are a member of a conservation institute you may well be eligible for a reduction in fees for attending some of these courses, and you could gain useful CPD credits too.
New Course for 2018 - Introduction to Indigenous Earth Building Traditions and Techniques 10th -11th May 2 day course exploring the resurgent interest in traditional earth building techniques with research and practical sessions over the two days
Full details of all these courses and others can be found on the Scottish Lime Centre website - click on the link above.
Extra, extra! Read all about it! Specifying Hot-mixed mortars Technical Paper 28
Here is Technical Paper 28 on specifying hot-mixed lime mortars written by the Director of the Scottish Lime Centre and commissioned by Historic Environment Scotland (HES). Click on the link here to read a digital copy hot off the 'press'!
National Heritage Training Group
The National Heritage Training Group (NHTG), funded by the CITB, Historic England and Historic Scotland, is a voluntary organisation responsible for coordinating the on-going development and delivery of traditional building crafts training and qualifications in the heritage sector of the UK. The organisation manages a comprehensive online Traditional Building Crafts Training Database and digital Information Centre. It operates a helpdesk and promotes the value of traditional building skills training to all stakeholders to support the sustainability and viability of the UK's historic built environment.
Every month the NHTG produce a newsletter giving information on a wide range of traditional skills training opportunities around the country and events and activities that may be of interest. The latest newsletter can be seen here
BathIRON 4 day Festival in June
Where better to hold a celebration of heritage skills than at the heart of a World Heritage City? At a time when the ancient craft of the blacksmith has almost faded from view, the National Heritage Ironwork Group will be staging a spectacular festival of ironwork in Parade Gardens, Bath from 14th – 17th June 2018.
There will be a variety of activities and opportunities for all the family during the four days. For ways in which you can be involved and for more details of Seminars and tours during the event please click on the link below