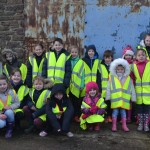 We held our first school visit to the site in March 2016, where children from the joint schools council held their regular meeting in the Bothy and discussed opportunities for play and leisure and gave their initial ideas on how the site could be used in the future.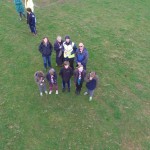 In early April 2016 we were joined by members of the local scout troop and their leader as well as local archaeology group memebers to see a demonstration of drone aerial surveying to show how modern technology can be used to survey buildings and land to give a close up view of the condition of hidden structures and see how places look from above. It was rather a blustery day, but everyone enjoyed themselves, and a follow up visit by the drone operator is being arranged with the scout group.
During the Easter Holidays we were delighted to be involved with the first Ewanrigg Roman Games, organised by the Ewanrigg Local Trust and had great fun with a trail for Roman coins, helping create costumes and chariots and watching the games and competitions. This was the first joint activity and we hope that many more will follow. We are now working on activities for the summer holidays.
The first Roman Games festival at Ewanrigg was held over the weekend of 8th - 10th April and was deemed a resounding success by all who took part. The weekend of activities was enjoyed by many residents and the chariot race on Sunday had over 40 participants and featured some very creative chariots and costumes. Everyone is now looking forward to next year's event.
Visit the Ewanrigg website and watch their film on youtube.
Visit by our Patron, HRH The Duke of Gloucester
On the afternoon of 27th April we were delighted to welcome our Patron, HRH The Duke of Gloucester and the Lord Lieutenant of Cumbria to Maryport, hosted jointly by the head teachers of Camp Road infant School and Maryport C of E Junior School on Camp Road.
The children waited excitedly after school for the Royal party to arrive, and created a welcoming "guard of honour" as they made their way into the school buildings to hear about recent excavations on the roman site and learn about our hopes for the future.
Olympic inspired Roman Games - A Summer holiday activity at Ewanrigg Community Centre
To coincide with Rio 2016, we planned an olympic inspired Roman Games day in collaboration with the Ewanrigg Community Centre, and this was held on Saturday 20th August. It was a very wet and windy day, so the activities all took part in the community centre, and featured craft activities in the morning with teams creating their own team flags/banners and outfits as well as learning circus skills with Jem the Juggler before the games commenced in the afternoon. A great time was had by all in spite of the best efforts of the weather. Pictures will be available shortly.